Looking back, and not that long ago, few people needed to read or write.   The farmer worked his fields or raised livestock with little reason to write.  Industrial workers labored in factories, again, with little reason to write.  Writing and then reading was left to the owners and specific individuals to take responsibility for written communication.
Usher in the digital revolution.  Now everyone is a writer.  Emails, social media, websites, blogs, and downloaded texts people are called upon to write.  As much as efficient and quality writing is intrinsic in today's business, Natalie Canavor states in her book Business Writing in the Digital Age, "Unfortunately, the general quality of writing in the business, government, and not-for-profit worlds is dismal."
A federal law was passed in 2010, named the Plain Language Act.  Government agencies writing was so bad that a federal law was needed.  The purpose of the bill is to provide documents for the general public that are clearly written and easily understood.
What about reading?  Infographics claim that Americans spend on average five hours and forty-two minutes a week reading a book.  The U.S. Bureau of Statistics state that Americans spend only nineteen minutes a day reading.  A report from the McKinsey Global Institute workers spend 28% of their time reading, writing, or responding to email.  Searching and gathering information accounts for 19% of one's time and 14% is spent on internal communication and collaboration, leaving 39% of the time to perform one's specific tasks.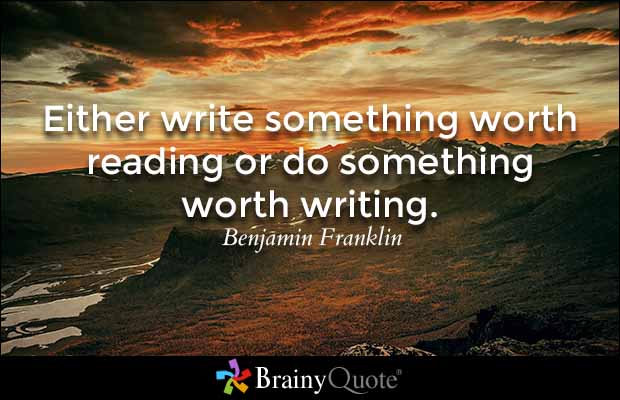 Doing some research, I find it interesting that many generations have discussed writing and reading as instrumental in moving society forward.
Francis Bacon, the well-known scientist, orator, philosopher, political leader, and author of England in the late 1500's stated in one of his essays On Reading and Writing:
"Crafty men condemn studies; simple admire them; and wise men use them; for they teach not their own use:  but that is a wisdom without them, and above them, won by observation.  Read not to contradict and confute; nor to believe and take for granted; nor to find talk and discourse; but to weigh and consider.
Reading maketh a full man, conference a ready man, and writing an exact man.  And therefore, if a man write little, he had need have a great memory; if he confer little, he had need have a present wit; and if he read little, he had need have much cunning, to seem to know that he doth not."
Now more than ever reading and writing are crucial to one's success.  Writing well gives anyone the chance to succeed, regardless of the career choice.  Reading educates, informs, enlightens, instructs, and entertains.  Reading can motivate one to attain life goals.  Reading reduces stress, boosts one's vocabulary, and allows one to feel more connected.